Over the years I've acquired quite a few ponchos for emergencies or simple overnighters in the woods, and I thought it was due time to record my findings in order to hopefully help someone else out when deciding which one to buy.
In this article we're going to flesh out the common questions related to each of these ponchos and cover all the specs that you'll need to know before you buy.
In this free-for-all match, we've got the civilian Helikon Tex poncho up against the military surplus ponchos from the USA, Germany, and Angola.
Grab a quick cup of coffee and let's get started!
Dimensions and Weight for Each Poncho
Let's start by comparing and contrasting the surface area of each of these ponchos (standard measurements followed by metric). These measurements were taken by me and were done with the ponchos spread out on the ground. I'm sure you'd gain a couple inches if stretched out as a tarp.
| Poncho Type | Height (Inches) | Width (Inches) | Total Square Feet | Weight (Pounds) |
| --- | --- | --- | --- | --- |
| USGI Surplus | 86 | 63.5 | 37.92 | 1.41 |
| German Bundeswehr Surplus | 83.5 | 61.5 | 35.66 | 2.18 |
| Helikon Tex | 85 | 56 | 33.06 | 1 |
| Angolan Military Surplus | 80.5 | 56.5 | 31.59 | 2.09 |
| Poncho Type | Height (cm) | Width (cm) | Total Square Meters | Weight (grams) |
| --- | --- | --- | --- | --- |
| USGI Surplus | 218.44 | 161.29 | 3.52 | 643 |
| German Bundeswehr Surplus | 212.09 | 156.21 | 3.31 | 990 |
| Helikon Tex | 215.9 | 142.24 | 3.07 | 471 |
| Angolan Military Surplus | 204.47 | 143.51 | 2.93 | 952 |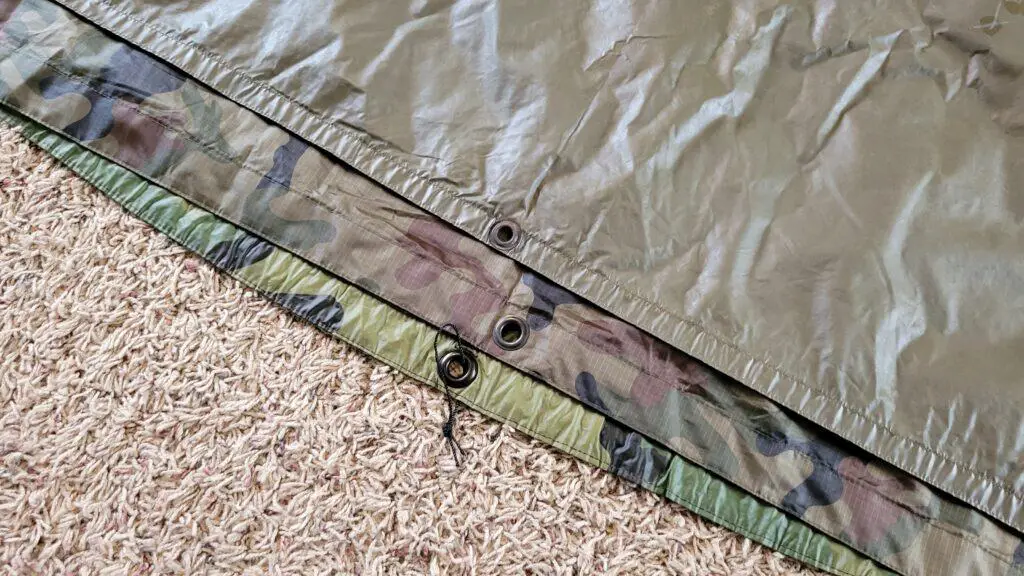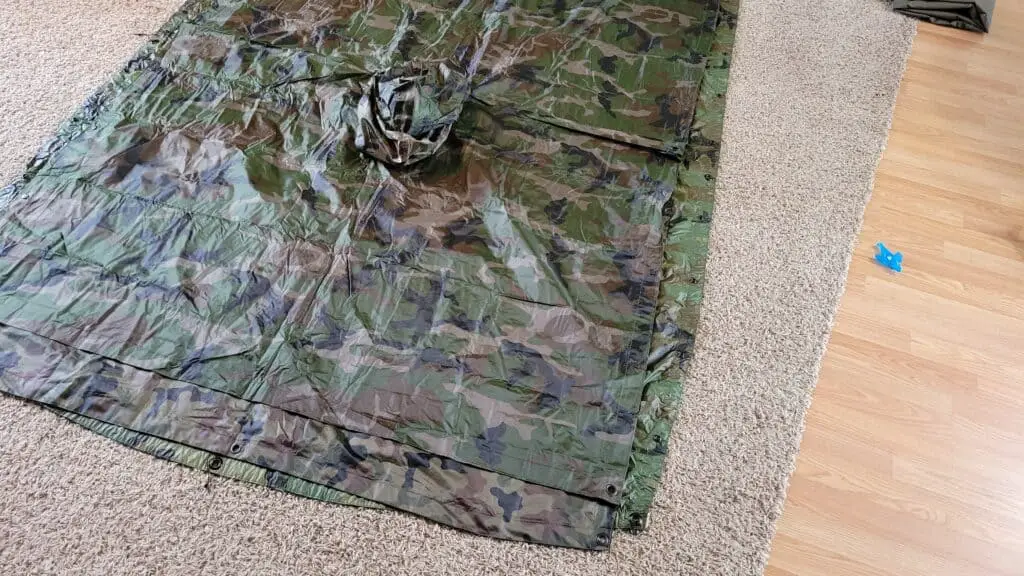 Helikon Tex
I've got two of these ponchos with one in olive green and the other in Polish camo. They are both great options for the price point.
They both come in their own stuff-sack which is made out of the same material and fit inside easy enough after pulling them out from the factory.
I often see them advertised as "rip stop nylon" but they are, in fact, polyester.
The Helikon Tex poncho is the lightest of the 4 being compared in this article and is loosely designed after the USGI surplus poncho. I say loosely, because it's pretty much a scaled down version in size and in quality of materials.
Helikon Tex may say that this is their "surplus line" of gear, but that is in name only. This is pretty much the younger brother of the USGI surplus poncho that didn't quite make the team. Not to say it can't play well, but it just didn't make varsity like the USGI surplus model.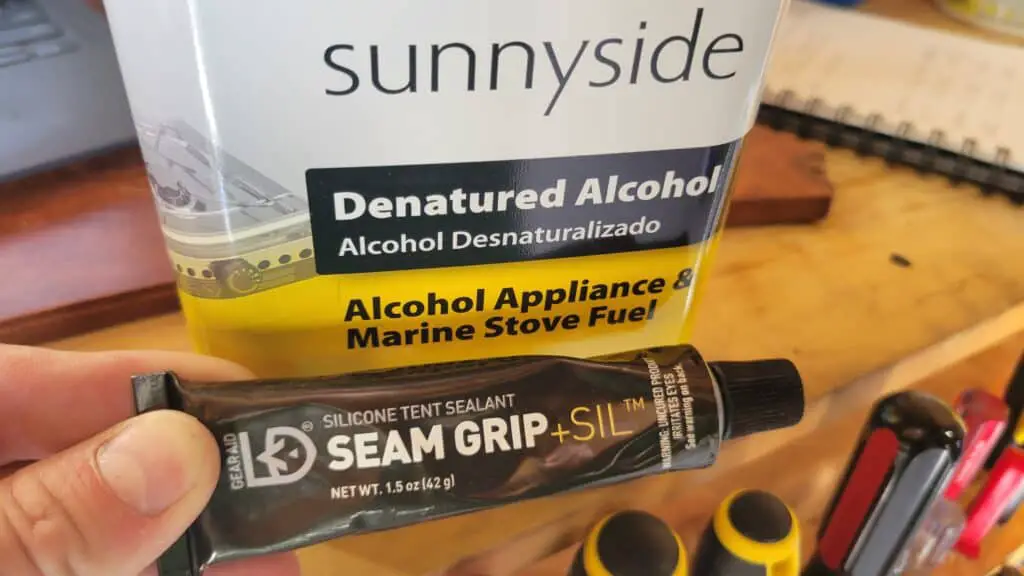 The length was just shorter by about an inch, but the width of the Helikon Tex poncho when compared to the USGI poncho was shorter by 7.5″! That means that your arms will be exposed in this poncho far more than they would with the USGI poncho, and that also means that you're losing out on about 5 square feet of coverage when using it as a tarp!
The snaps are modeled after the USGI poncho, where you can connect multiple ponchos together. This can be done with two Helikon Tex ponchos, but you'll find that the snaps do not line up properly with a USGI poncho. You may get a few together, but it will soon become apparent that they are not made for each other based on their spacing.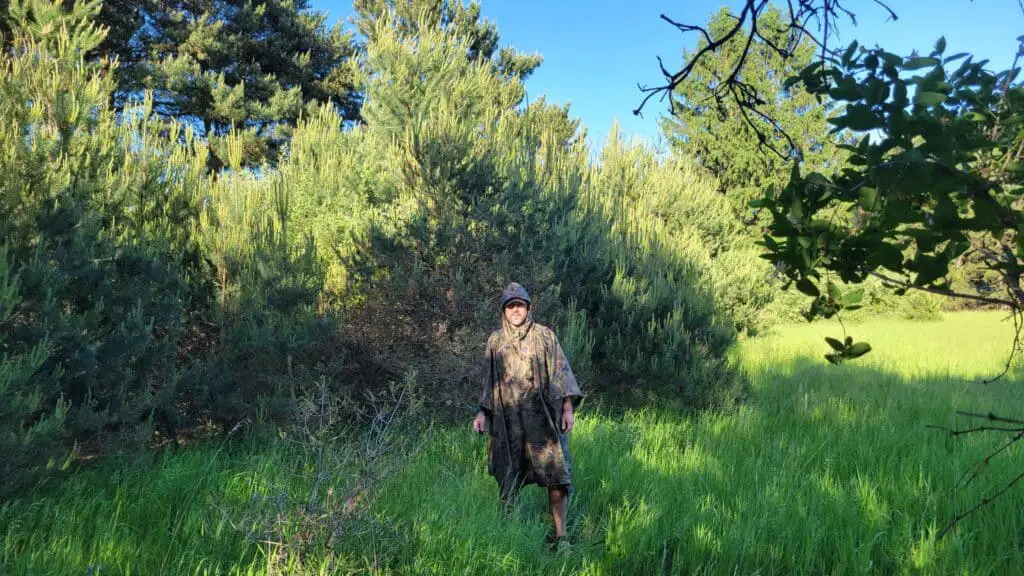 This poncho is light! Just over 1 pound by a fraction of an ounce. This poncho also folds down the smallest and takes up the least amount of room in your pack.
The grommets (8 in total) on both of mine were rugged enough and cannot be bent by hand. I have read reviews of snaps that come off, but I haven't experienced that. With that being said, I'm very gentle with my snaps after having read those reviews.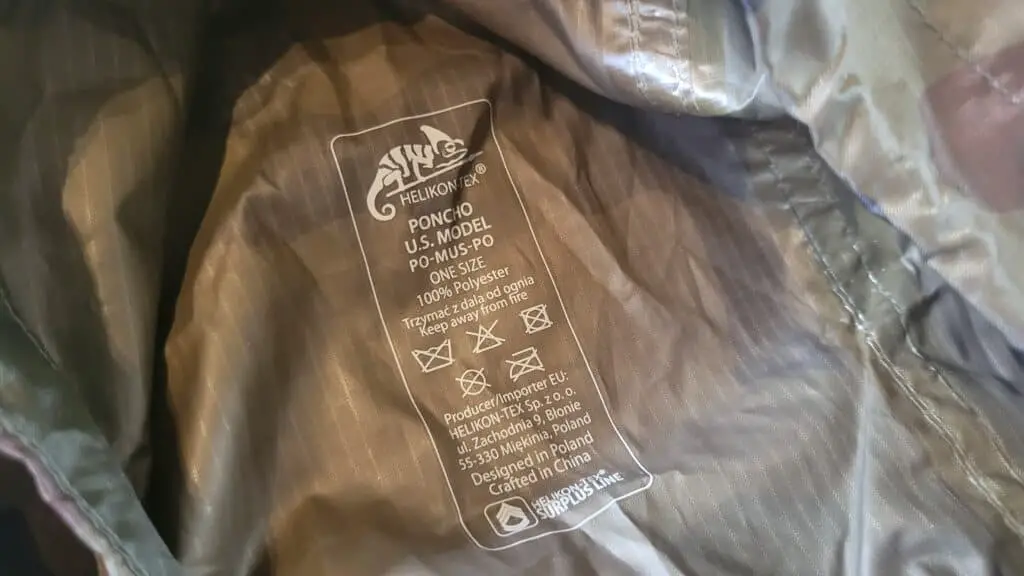 For the price point, this poncho is hard to pass up. For the small carry size and light weight, this poncho is hard to pass up. For the quality of the build, this poncho is hard to pass up.
For anyone 5'9″ and shorter, this poncho will probably feel like it offers excellent rain coverage (as both a poncho and a tarp. For those of us above that height, it definitely feels like it's coming up short… because it is.
I'm 5'11" and when worn as a poncho the bottom rests about 3″ below my knee cap. The "sleeves" (for lack of a better term) ride up about 4″ from my wrist (when my arms are at my side or extended out).
I have a big head and I didn't have any issues getting my head into the hood and the hood covers my head just enough. If your head is normal sized, you'll find the coverage to be enough.
The hood is nicely seam sealed and has a drawstring and stopper just like the USGI surplus model. The waist also has a drawstring but it is not seam sealed where they sewed in the retainers for the drawstring. You'll want to do that yourself or you can expect this area to leak — especially if using it as a tarp. Here's a link to Seam Grip on Amazon to fix this problem. I have instructions in one of the pictures above.
USGI Poncho
The USGI military surplus poncho in woodland camo holds a special place in many people's hearts. I'm not military myself, but I can see why there is an attachment to this thing.
Dimensionally, it is the largest of all of the ponchos compared in this article. It is also one of the lightest at 1 pound 6 and 5/8 ounces and made of rip-stop nylon.
A quick Youtube search will reveal how these can be used for stretchers in an emergency, or you can even make a hammock out of one. It will stretch, I'm sure, so I wouldn't recommend it, but it's nice to know how rugged these things are mentally when you go to pack your gear.
The 8 grommets on this model are bombproof and so are the snaps. You can connect two or more USGI ponchos together to make a larger tarp shelter. The USGI model will not snap together properly with a Helikon Tex poncho, and when I attempted it not only did I find that the spacing was off but one of the snaps stuck the two ponchos together so tightly that I had to get a screwdriver to pry them apart while trying not to slip and puncture one of them. It took about 3 minutes to free them up, so I don't recommend trying it.
I'm 5'11" in height, and this poncho rides about 8″ down from my kneecap and just the tips of my fingers stick out of the sleeves. I have a large head and the hood is plenty sufficient. This poncho offers my body the most protection from the rain when worn as a poncho or used as a tarp.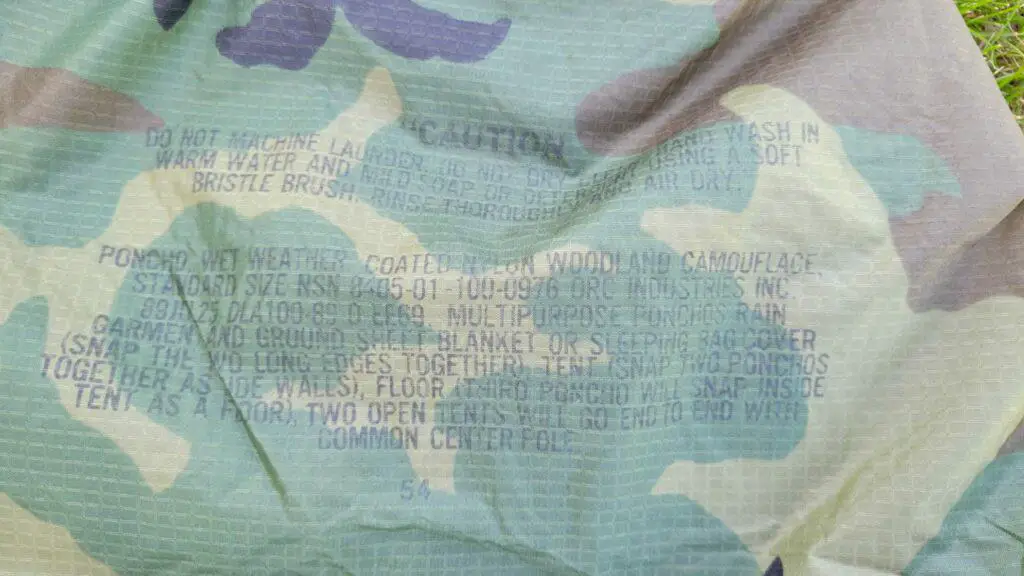 This model is surplus, so you'll have to be very careful about the condition when you purchase it. In my case, the seal tape along the hood is still in great shape and there are no rips or holes. Also make sure the seller includes a picture of the NSN number (see picture above).
The hood has a drawstring with a quality cinch stopper.
This poncho packs down to about the same size as the Helikon Tex model and is just a tad heavier (by 6 ounces) but it does offer an additional 5 square feet of coverage when used as a tarp.
These are a rare find online these days. The price on these things in 2022 is about $85 for a used poncho in good/great condition. You can find them for about $45 if they need some minor repairs. If you find a surplus new/unissued model, you can expect to pay $110+.
Pricey? Yes. But they are a great piece of gear.
Ebay is the best place to find these, and only about 1 or two appear each month and they go fast. The best bet might be to look at your local military surplus store and talk with the owner.
Angolan Poncho
When I bought this poncho from Coleman's Military Surplus, I had such high hopes when I read the reviews and looked at the price. It was about $30 at the time (down from $50) and the reviews said that it was very comparable to the USGI ponchos that were impossible to find when I was searching for one.
I readily ordered one and when it arrived it was in a nice stuff-sack that was the same camo pattern as the poncho. The material of the stuff-sack felt very thick and rugged, and I was excited to see what was inside.
That's when the honeymoon phase ended.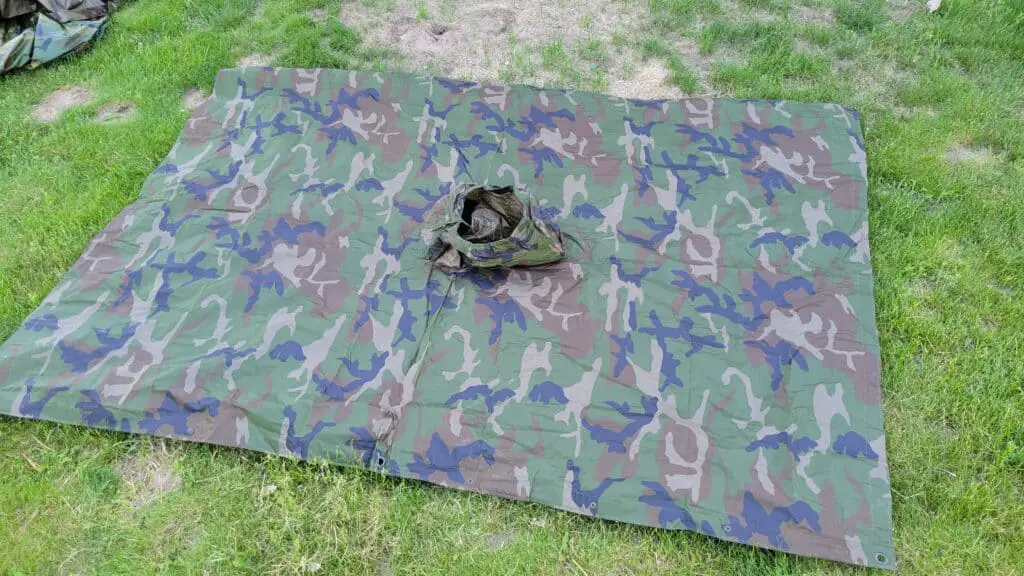 Yes, the fabric of the Angolan poncho is thick and is certainly waterproof. The outer side is a nylon or polyester material and the inside feels rubberized. The seams are taped decently. That's about all it has going for it.
The poncho was nicely folded inside the sack, and two of the grommets were right on one of the folds. The grommets were so cheap and thin that they themselves were folded right in half!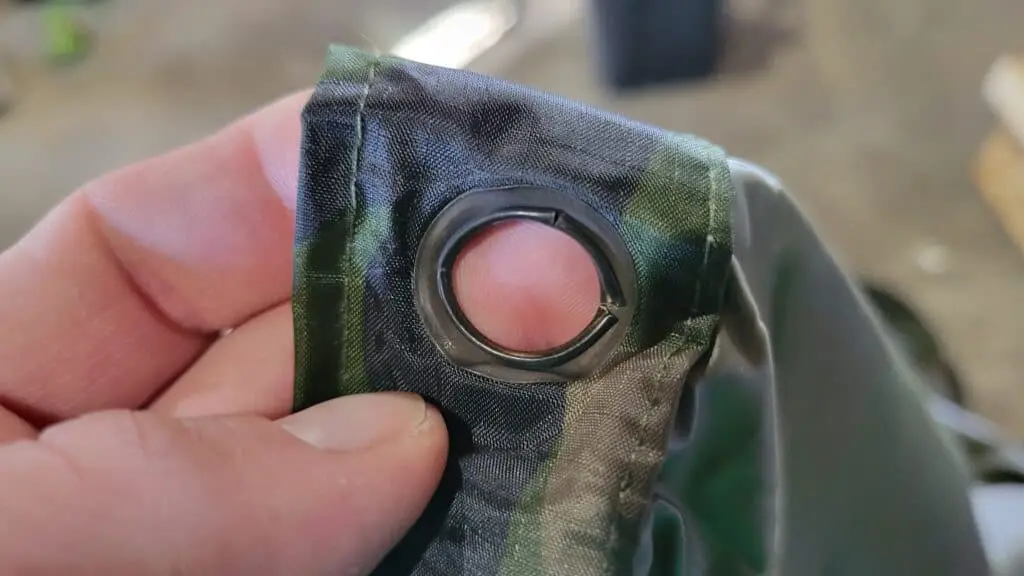 Thinking maybe a machine folded the poncho and therefore wasn't careful with the grommets, I took hold of one of the corner grommets that was intact. With very little pressure, I was able to immediately start bending it in half as well.
Absolute junk as far as the hardware attached.
The poncho wears well but is significantly smaller than the USGI poncho (shorter by 5.5″ in length and 7″ in width!). I'm 5'11" and this poncho goes down to the center of my knee cap and rides up about 3-4″ from my wrist. It is a hot wearing poncho due to the rubberized coating on the inside.
The hood is plenty big for my big head, and the drawstrings are cheap and lack a stopper to keep them cinched and must be tied.
Because of the thicker rubberized coating, the poncho feels rather restricted when wearing it, whereas a USGI or Helikon Tex model just flows with your movements.
The camo pattern is fine for all intents and purposes, but this poncho is trying to be something that it's not. It is a poncho. It is only mildly suitable (at best) for a tarp, and it is not suitable for interlocking with other ponchos since the snaps are not double sided.
Also, there are only 6 grommets, whereas all the other models in this article have 8.
The snaps on this poncho are only meant to snap to itself to close up the poncho when wearing it as such.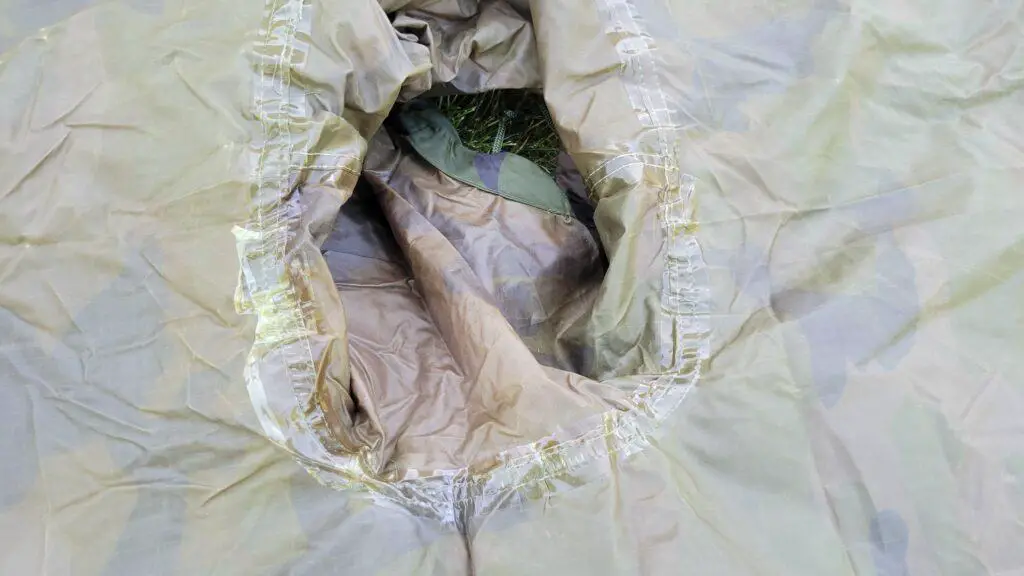 There is no drawstring around the waist to cinch up the sides of the poncho in heavy wind or when walking through heavy brush.
Despite the junk grommets, I did stretch the poncho out under heavy tension with paracord on each of the corners and it held up just fine. Still, knowing that I can easily bend the paper thin grommets, it's not something that I'm going to bet my life on.
It's waterproof, heavy, but cheap in quality and should be priced much lower. Do not buy this poncho at the $50 regular price. You WILL be disappointed unless you're looking to use it as a poncho only!
German Bundeswehr Poncho
I honestly don't even know why I bought this poncho. It was more of an impulse buy more than anything. I overpayed on Ebay, but here is a link for a much more affordable option from Coleman's Military Surplus. This is not an affiliate link, but I've ordered from them several times and they are fast on shipping and always get my order correct.
When it arrived I couldn't help but notice the weight and large packing footprint. I guess I should have known that based on the description that this poncho was rubberized on the outside.
It's a hot wearing poncho due to that, and also comes with a distinct surplus smell that does not go away. Any of these ponchos will likely be in used condition, so you'll want to be careful when reading the descriptions.
Mine came with dozens of small pinholes that were easy enough to patch from the inside with Gorilla Tape (cut in a circle pattern to avoid snagging the corners) by tying the poncho out as a tarp and trying to look at the sun through the poncho.
If you can't see the sun at all, you're in business. If you see speck of light, cover them up.
The snaps were pretty corroded but still serviceable. I cleaned them up a bit with some q-tips and vinegar.
The hood is plenty big for my big head and there is a quality cinch stopper on the drawstring.
The waist has a drawstring as well.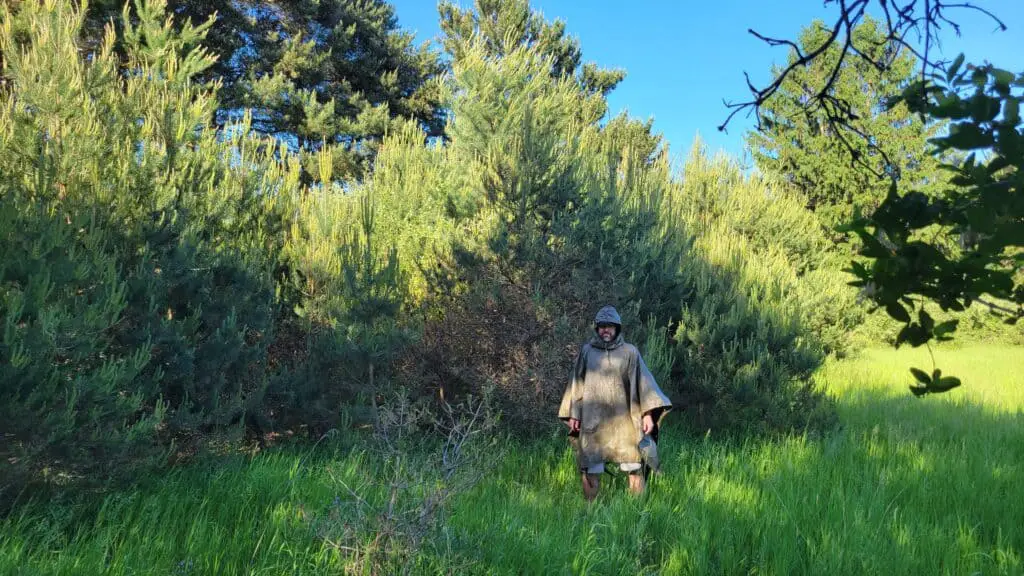 There are 8 grommets on this poncho (each corner and each side) that are high quality and rugged.
I'm 5'11" and this poncho hits just below my kneecap and the "sleeves" touch the base of my thumb.
It is a stiff poncho and feels rather boxy when moving in it.
Overall, this poncho has probably been around and in service longer than I've been alive. It seems bulletproof. I would trust it to be the most rugged in the field as a tarp or for guaranteed water protection when wearing it as a poncho.
However, with it being rubberized, it's a poncho that stays indoors unless actually being used. If you have a BOB (bug out bag) or "go bag" and keep it at home, then this poncho would be a great option (except it is heavy and has the largest packing footprint). I keep my bag in my car most of the time, and I don't believe the rubberized coating would do well in the temperature extremes of a vehicle interior in the summer months.
So, for me this is a great camping poncho and tarp. It's a bit too heavy to carry when doing some lightweight hunting or scouting.
If you buy this poncho, you won't be disappointed in its durability or function — just know that it is heavy, rubberized, packs larger than other options, and will stink.
Will Poncho Liners Fit These Ponchos?
When you combine the poncho with a poncho liner (or "Woobie" as some call it), you get a makeshift sleeping bag, or "ranger roll".
I purchased two poncho liners to get dimensions.
The USGI surplus poncho liner is 83.5″ in length and 61.5 inches in width.
A Mil Tec Poncho Liner is 85″ in length and 62″ wide.
When you compare these measurements to those in the table at the beginning of the article, you'll see that the USGI surplus poncho is the only one that can accommodate either one without the liner sticking out. The German poncho is the next best at matching the size of the liners.
If you use a poncho liner with the Angolan or Helikon Tex ponchos, the liner will definitely be sticking out of the poncho when it is folded over you.
Final Thoughts
I personally think that all of these ponchos are overpriced for what they are. Of course, I'm still thinking of pre-2020 prices, but still.
If you're looking for the best compromise option as far as money and quality, then the Helikon Tex poncho is a fantastic option. It's definitely not as large as the USGI surplus poncho, but it gets the job done if you can accept its limitations. It is waterproof, but runs small when wearing it for anyone taller than 5'9″. I do like the color and pattern selections that are available and I personally like the Polish Woodland pattern more than the USGI camo pattern. It blends better into my particular environment. This is the poncho I take on short day hikes and scouting for hunting. It will provide emergency protection (where I may very well be uncomfortable) and nothing more.
The Angolan poncho is heavy duty as far as the fabric (plus rubberized coating), and had so much promise but it was a terrible let-down with how paper-thin the grommets are. Considering that these are at about the same price point as the Helikon Tex ponchos, I cannot recommend the Angolan poncho for any reason. They are definitely waterproof, but wearing them as a poncho is about all I would trust them for. I personally like my items to be multipurpose, and this poncho does not pass the test when serving as a tarp. If you can get this for a great price and know how to replace grommets, then this would be a good deal for you.
The German Bundeswehr poncho is heavy, rugged, has stood the test of time, and works amazing as a poncho or as a tarp. However, I like to keep a go-bag in my vehicle and I cannot help but think that the hot interior temperatures of a vehicle in the summer will degrade the rubberized coating on this poncho and lead to it becoming brittle and cracking. I'd trust my life on it in the woods, but I can't bring myself to leave it in a hot vehicle over and over again. For the $85 that it cost me, I don't want to test my theory and be proven correct.
Finally, the USGI poncho is at the same price point as the German Bundeswehr poncho, but it can hold up to heat of a vehicle while being in my go-bag and is half the weight. The woodland camo design does well in my (and most) environments in the United States, but I'm not the biggest fan of it. The size of this poncho was superior to all of the others in this comparison, and every inch counts when you're trying to set up an emergency tarp. It's a pricey poncho, but it's time tested, functional, rugged, and is the overall winner in my book and will remain my preferred poncho.